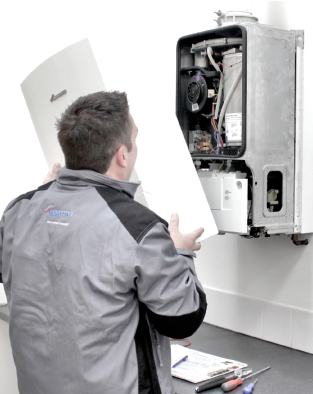 Boilers that are over ten year's old waste a lot of valuable energy.
Looking for cost efficient heating? You should be aware that current building regulations state that any replacement or new gas-fired boiler must be a condensing boiler. Older boilers convert as little as 60% of the fuel they use into heat which has a big impact on your home heating bills and the environment.
We specialise in the installation of condensing boilers and renewable energy products from Worcester, using the latest technology available. Modern condensing boilers improve efficiency to over 90% which could save you a minimum of 30% per year on your home heating bills, which represents a big saving over the lifetime of your boiler.
Depending on your heating and hot water demand there are different types of condensing boilers that are available, please follow the link for any questions you might have regarding the main boiler types.
If you are considering replacing an old boiler please contact us for a no obligation estimate.

We are Gas Safe registered
Patterson Heating Engineers Ltd takes gas safety seriously. All of our engineers are on the Gas Safe Register and will have their official identity card when you ask to see it.
Gas Safe Register is the official gas safety organisation in Great Britain.
It replaced CORGI on 1st April 2009. Gas Safe Register is responsible for the registration and regulation of gas engineers. Membership is mandatory for any company or engineer working with gas appliances.
If you would like to find out mor e about Gas Safe Register you can call 0800 408 5500 or visit the Gas Safe Register website.